Download our any of our NextReads buttons to use on your website.  Or download our NextReads header to use in the branding for your own newsletters.

To download:

Right-click on one of the images below.
Select Save image as....
Choose the location where you would like to save the file.

Enter a File Name for the image.
Click Save.
Buttons:

100 x 50 pixels
150 x 75 pixels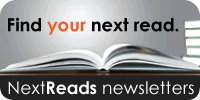 200 x 100 pixels
200 x 300 pixels
Newsletter Header:



 600 x 100 pixels


Logo:




500 x 125 pixels